It takes the whole village to raise a child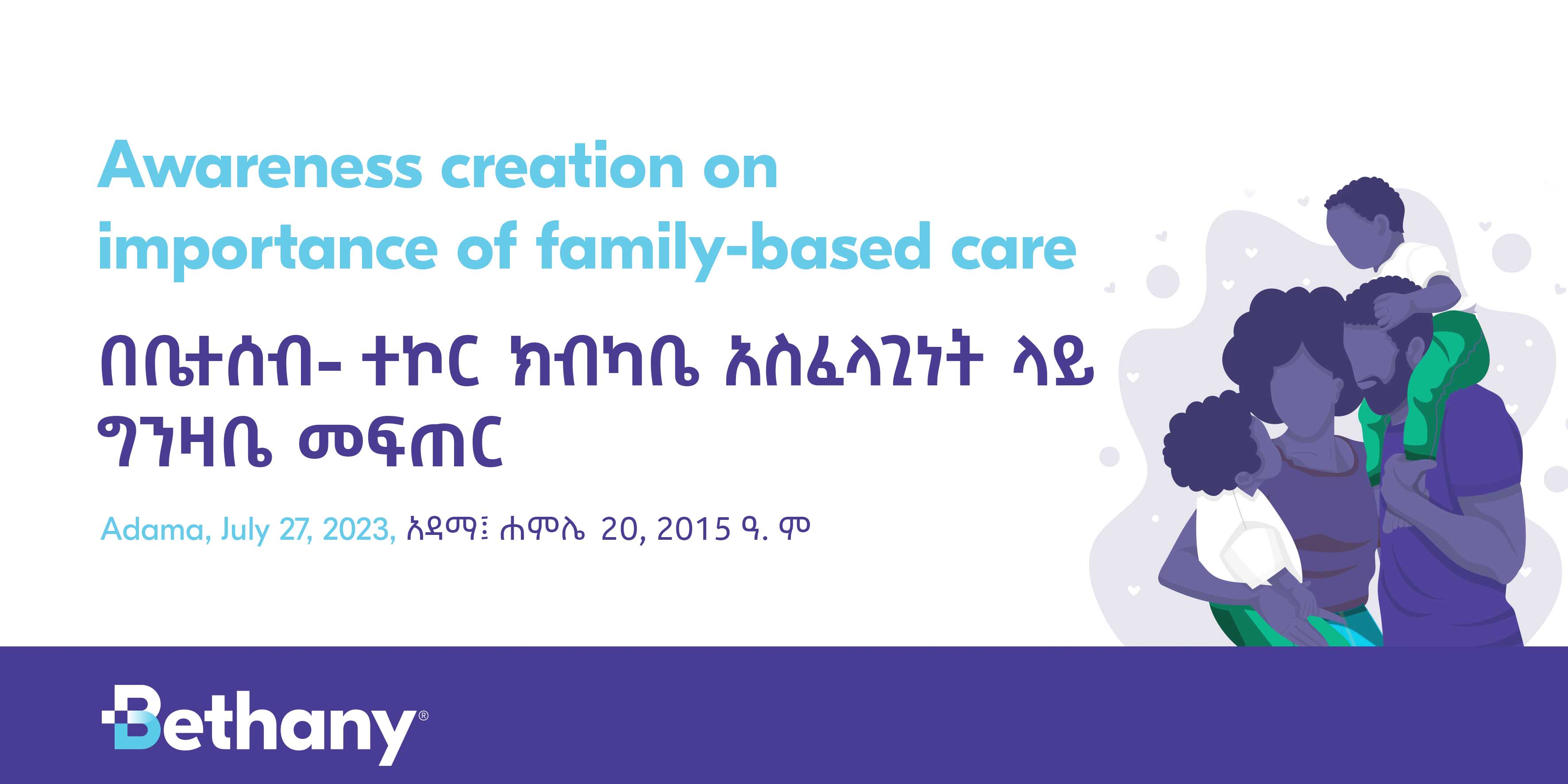 Bethany Ethiopia raises awareness on family-based care alternatives for vulnerable children.
Amazing transformations happen when a child grows up in a community rather than in institutions. As the famous African proverb goes on to say, "It takes the whole village to raise a child", Bethany-Ethiopia conducted a training in the Oromia region to share the framework of family-centered solutions for children as an alternative to institutions.   The training reflected on deinstitutionalization and the importance for children to have a safe, nurturing environment to call home. "Family-based care offers a proven solution to protect vulnerable children," said Dawit Fekadu, Bethany Ethiopia Country Director   Abba Gedas (Religious leaders), child experts and social workers from the regional Office of Women Children and Social Affairs, along with police members, representatives of the health sectors, informal support system ("Idir") leaders of the region, and other opinion makers participated in group discussions and presented their valuable perspectives to give a family for every child that needs one.   Dinke Tessema, Senior Manager for Alternative Care Programs in Bethany Ethiopia shared the current situation of vulnerable children and reflected on the various local terminologies used to describe children. While stressing the need for children to be raised in a family setting instead of in institutions, she said, "Family is a major part of our communal culture of relationships. And the vulnerable children out there do not belong to the street but to us, and if we join hands, we can change our orphan crisis through family-based care and protection."
Abba Gedas (religious leaders) who participated in the training also said, "Caring for children and raising them to be productive citizens is embedded in our culture. We not only know each other closely, but also identify which cattle belong to which neighbor in the community. As part of information gathering and sharing in the culture, every young person is expected to know the whereabouts of a new face to protect the community and provide the necessary support. We need to return to our culture, and way of doing things to bring lasting solutions to the crisis we are facing, particularly regarding vulnerable children," through their representative religious leader, Abba Geda Abiti Edao.   "It was a very interesting training that provided all participants with an all-inclusive framework that every stakeholder can apply, and the presentations with the panel discussions from the participants incited the way forward as to how we can provide a family-based care for to the vulnerable children around us," said Tegene Zewde, chairperson of the region's informal sectors coalition.
It was pointed out that the event is also anticipated to happen in other parts of the country with regional staff members, and conduct community conversation sessions to internalize essentials of family-based care principles into the wider society.   Bethany is a global non-profit that supports children and families with world-class social services, all designed to help families thrive. It's overall activities in child welfare provide a wholistic approach to positively impact vulnerable children and families, including community development, family support, temporary care, and adoption.    To become a foster parent, and provide temporary foster care, kindly contact us through +251-903-155555 and +251-903-171819